Two "JManga Select" and 10 new Harlequin Romance titles added to digital manga service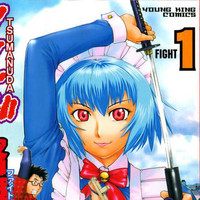 This week, JManga continues its roll out of JManga Select—100 hand-picked titles never before published in North America—with Kodoku no Gourmet, a foodie manga from Masayuki Qusumi and award winning artist Jiro Taniguchi, as well as TSUMANUDA Fight Town - Michiro Ueyama's story of an illustrator turned street fighter.
10 new Harlequin Romance titles were also added.
Kodoku no Gourmet
Created by Masayuki Qusumi , Jiro Taniguchi
STORY
Goro Inogashira eats and indulges at restaurants or ramen shops found on any street corners. He has become a liberal foodie removed from social obligations for a fleeting moment to satisfy his hunger. Solitary Gourmet… That's the solitary process of eating without interruption or worry that gives the most comfort to people equally.



TSUMANUDA Fight Town Vol. 1
Created by Michiro Ueyama
STORY
Eighteen year old Mitsuru Yaegashi has come to Tokyo to be an illustrator. But the place he planned to live, Tsumanuda, has legalized and organized street fighting! He meets the mysterious maid Dorae, and with her help steps into the world of martial arts. What awaits him there? A realistic fighting action manga by Michiro Ueyama!

The Stanbury Crown, Royally Wed I-The Expectant Princess
Created by STELLA BAGWELL , RIN OGATA
Story
The happiness of the royal family of Edenbourg, waiting for a baptismal ceremony of the king's first grandchild, is broken by bad news—the king has been in a traffic accident. Princess Dominique runs to the site in search of her father, accompanied by the family's High Counsel, Marcus Kent, who offers to escort her. Her heart races, as she has admired Marcus since childhood, but he abuses her respect with harsh words. This is the first of a four-story miniseries, The Stanbury Crown: Royally Wed!

The Stanbury Crown, Royally Wed II-The Blacksheep Prince's Bride
Created by MARTHA SHIELDS , MIHO TOMOI
Story
King Edenbourg's traffic accident turns out to be an abduction. Under orders from Princess Isabel, lady-in-waiting Rowena investigates the king's disappearance by playing nanny to a son of the primary suspect, Jake Stanbury. While living with Jake, Rowena finds out he is a man of faith. She begins to be attracted to him as she becomes convinced of his innocence. However... This is the second of a four-story miniseries, The Stanbury Crown: Royally Wed!


The Stanbury Crown, Royally Wed ?-Code Name: Prince
Created by VALERIE PARV , MASAMI HOSHINO
Story
Was I kidnapped by an angel? While Edinburg kingdom is rocked by the disappearance of the king, Ben, a marine acting as a double for his cousin, Prince Nicholas, is kidnapped. As he lies strapped to a bed, he is met by a beautiful woman smelling of roses. Seeing guilt in her eyes, Ben is sure she's taking part in this kidnapping against her will. Whatever her circumstances, Ben vows to protect her! Part 3 of the "Wedding of the Century—Kingdom of Edinburg" 4-part miniseries!

The Stanbury Crown, Royally Wed IV-An Officer and a Princess
Created by CARLA CASSIDY , MEGUMI TODA
Story
The Kingdom of Edenbourg is shaken with the king's disappearance. Princess Isabel decides to rescue her abducted father on her own. She plans to slip into a pub to find clues, posing as a married couple with Lieutenant Adam. "I will count on you when I get into trouble," the princess says to Adam, who tries to stop her because it is too dangerous. Adam prepares himself for the mission instead. On the day of the investigation, at the pub, Adam finds Isabel dressed so luscious that she looks like a loose woman! This is the final tale of a four-story miniseries, The Stanbury Crown: Royally Wed!

A Wife in Time
Created by CATHIE LINZ , MAMI ISHIKAWA
Story
Susannah is an editor. During a party at a book fair, she sees a portrait of a woman who is wearing the same red necklace as her. Intrigued, Susannah steps closer to the painting, only to be engulfed by a mysterious light that transports her 100 years back in time! To make matters worse, Kane Wilder, CEO of an IT company, who is convinced Susannah is his brother's mistress, accidentally travels with her!

Princess of Convenience
Created by MARION LENNOX , TAKAKO HASHIMOTO
Story
In order to buy the highest quality yarn, fashion designer Jessica travels to the Principality of Alp'Azuri in Europe. While admiring the picture-perfect beautiful landscapes on a drive through the country, an out-of-control car smashes into Jessica's car at full speed and knocks her out! When she regains consciousness, she finds herself at the royal palace. Alp'Azuri's Prince Raoul's fiancée died in that crash. Jessica blames herself for her death, but Raoul firmly asserts that it is not her fault...

Billionaire Bachelors: Stone
Created by ANNE MARIE WINSTON , ESU CHIHARA
Story
After her father's death, Faith's guardian, Stone, has been paying for her school fees and living costs without her knowledge. "He was always the person I went to when I had problems..." But he's only looking after her as her guardian. "I can't let him pay for me any longer!" So Faith quits school and begins to work to repay her debt to Stone. Unable to persuade her to change her mind, Stone offers her a proposition... "In return for writing off your debt, will you marry me?" Stone tells Faith that his mother will not hand over her company to him until he is married. A proposal from a man she loves...but it's all just a business deal!


Something Old, Something New
Created by DONNA STERLING , JUNKO OKADA
Story
In the mountains of North Carolina lies a mansion named Windsong Place. Ryan, the heir to the mansion, and Sunny, the housekeeper's granddaughter, fall in love and marry. However, Ryan's father, angry at his son's marriage to a girl far below his status, disinherits Ryan and sells off the mansion. Soon after, their marriage deteriorates and Ryan and Sunny go their separate ways... 10 years later, Windsong Place, now a hotel, is being auctioned. Ryan returns to make a bid for the hotel, while Sunny arrives hoping to find work. And there, the two meet again!
To Woo a Wife
Created by CAROLE MORTIMER , YOKO HANABUSA
Story
Businessman Jarrett travels to Canada in order to secure the purchase of a business. There he meets his newly married friend and his wife, and agrees to join them for dinner. He is introduced to a former model, Abbie. Jarrett falls in love at first sight, but her suspicious behavior leads him to assume she is a high-class escort. But her true identity is even more surprising!
Wife by Agreement
Created by KIM LAWRENCE , JUN MAKIMURA
Story
"Hannah, will you marry me?" The proposal from Ethan, a man she loves, should have been the happiest moment of her life... If the marriage wasn't just a contract. Hannah was hired as a nanny after Ethan's wife passed away, then Ethan asks her to be "a mother to his children." Hannah wants to be loved as a woman, but it seems Ethan cannot forget about his late wife... When will he realize Hannah's true feelings?