Keeping the boys love flowing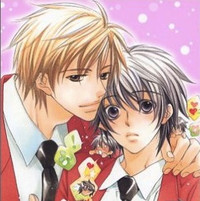 Boys love manga publisher SuBLime announced a couple new titles today, both for digital and print, unlike their other releases so far this year which were all digital-only.
First up in July is volume 1 of Hinako Takenaga's Awkward Silence:
The official synopsis reads:
Satoru is an introvert with a longtime crush on Keigo, a popular boy on the baseball team. But much to his surprise, Keigo comes up to him and asks him out! Satoru is so overcome he can't respond. Will Satoru be able to get past his shyness, or will he lose his chance with the boy he loves?
Then volume 1 of Youka Nitta's Kiss Ariki will be out in August:
Official synopsis as follows:
Touru's father, the head of a yakuza faction, orders him to a deserted island with Matsumi, the son of his second in command, to keep him out of harm's way. Matsumi is a studious honest guy and doesn't much care for Touru. As the two become bored, they use each other's bodies under the pretext of just "helping each other out," but isn't touching to kill time ultimately the same as sex?
Both titles will continue on a quarterly basis and SuBLime said they have one more new print title up their sleeve to reveal in the next day or two.
via @SuBLimeManga