Live-action version being developed with help from Viz Productions staffers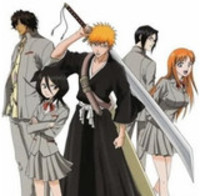 Perennial Hollywood trade rag Variety is reporting that Warner Bros. has purchased the live-action rights to Tite Kubo's Bleach manga and has moved straight to work on the adaptation, with Dan Mazeau of the Wrath of the Titans remake assigned to scriptwriting duties. Peter Segal of the Get Smart remake is still attached as a producer with the possibility of being the director.
Other producers include Segal's business partner Michael Ewing, actor Masi Oka from the TV series Heroes (he was Hiro Nakamura in the series), and Jason Hoffs at Viz Productions (a little-known subsdiary of Viz Media centered on production of licensed properties). Branon Coluccio is signed on as the executive producer.
Segal told Variety, "I've always been a huge fan of Bleach and have great respect for its creator Kubo-sensei and the truly original and amazing world he has created in this manga."
Anyone excited to see Bleach turned into a live-action film, or do you smell Dragon Ball: Evolution level bomb? I'm wondering who they'll cast as Inoue and Rangiku personally. Can they even be realistically cast?
via ANN
---
Humberto Saabedra is the Editor-in-Chief of AnimeNews.biz, PhoneNews.com and an occasional columnist for Ani.me. He can also be found musing on his favorite 2D girls at @AnimeNewsdotbiz.