"Resident Evil: Maruhawa Desire" deals with the worst thing ever: zombie children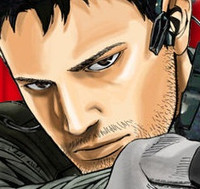 Weekly Shonen Champion isn't quite as well-known in the US as, say, Weekly Jump or Shonen Sunday, but it's still chock-full of awesome shonen action titles--mainly ones that veer a little to the dark side. While Jump has Yu-gi-Oh! with its fun and generally safe-for-all-ages card battles, Champion had Chaosic Rune, with vicious card-monster combat where the bad guys (and oftentimes the good guys) rarely made it out in one piece.
It's in that spirit that Champion brings a new Resident Evil manga (whose one-shot prologue appeared in Capcom's own magazine), Resident Evil: Maruhawa Desire. The series takes place in an island school where a student has mysteriously turned into a zombie, starting an outbreak.
BSAA advisor Doug and his assistant Ricky head to the island to investigate--Chris Redfield and other BSAA members are reported to make appearances as well.
I've always been a fan of Resident Evil, and since I'm still hyped from the recent release of Resident Evil: Revelations, I'd love to see this get a US release. What about you?
via Andriasang