Oji Plus: From Twitter hashtag to doujin demo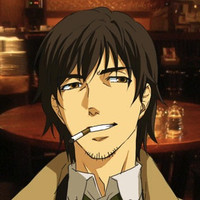 "Wouldn't it be cool if there were an 'Oji Plus' game?" thought so many Twitter users together that the hashtag #オジプラス ("ojiplus") was born. It's a good point—why should guys have all the fun with Love Plus? It's not clear how this game will or will not be different from the girl-aimed romance visual novels you see around already, but the hashtag made at least one headline last November. Now @katosyan1 has created a demo of a game featuring "adult men" called Dress≒Code:
"Fully voiced visual novel style romance simulation game"
The free demo is Windows only, but IT Media took it for a spin so we can see what it looks like!
After a tough day as an OL (Office Lady), poor protagonist you are without an umbrella in the rain and on top of that, you fall and twist your ankle. Even your lucky pink dress is not helping you out, so there's nothing left to do but drown your sorrows. Happily, there's a light on in a nearby bar...
This is new hire, Motoki Wakasa. He's younger and cute "like a dog."
His manager, Akira Kiryu, is taller and has more facial hair—oji alert!! Apparently this guy hits on you right from the get-go, "Young Lady, you're like an angel," he says in passing (not pictured).
Once you're at the counter you'll be joined by a regular, Tatsuya Kuroyama. He's got the stuble and trench coat to create the aura to match his profession as a detective. You guys do the cheers thing and it's worth noting that the IT Media reporter found this rather exciting. Personally, yes, I could see myself as a Team Kuroyama kind of girl already.
A couple other guys show up, though, cool-headed Hikaru Shirokawa (a public prosecutor) and bespectacled Rio Mizuhashi (a surgeon). Mizuhashi intuits that your foot is hurting and gives you some on-the-spot medical attention. Mmhm, gotta like that.
The conversation is pleasant, surrounded by such a fine group of fellows, but the bar has to close at some point. Motoki's twin brother Kazuki shows up to deliver him an umbrella, but they bestow it upon you instead (at which point I imagine the protagonist thinking, "Good boy"). As you're leaving Akira compliments your outfit (!) which turned out to be lucky after all.
The demo lasts about ten minutes and there are no voices yet. It was noted that although they are not exactly old (more like in their 30s with the exception of young pup Motoki), the characters don't exude any airs of femininity. I'm just gonna go ahead and put Dress≒Code on a watch list for Gente fans at the very least.
via Yaraon!