"Princess Ghibli II" continues series of heavy metal cover versions of Studio Ghibli songs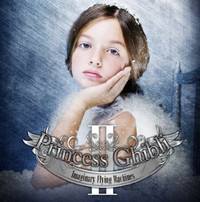 Vocalist Sophia Aslanidou of the Japanese trance/metal hybrid band Blood Stain Child has confirmed on her personal blog that the band has recorded another series of Ghibli covers for the second volume in the Imaginary Flying Machines series of heavy metal covers of Studio Ghibli theme songs.
The tracklisting for the new album is as follows and features songs from Nausicaa, Ponyo, Tales from Earthsea and From up on Poppy Hill:
01. Toki No Uta - (Tales From Earthsea)
02. Ruuju No Dengon - (Kiki's Delivery Service)
03. Kaze No Tani No Nausicaa - (Nausicaa Of THe Valley Of The Wind)
04. Sayonara No Natsu - (From Up On Poppy Hill)
05. Sekai No Yakusoku - (Howl's Moving Castle)
06. Ai Wa Hana Kimi Wa Sonotane - (Only Yesterday)
07. On Your Mark - (On Your Mark)
08. Umi No Mieru Machi - (Kiki's Delivery Service)
09. Umi No Okaasan - (Ponyo On The Cliff)
10. The Merry Go Round Of Life - (Howl's Moving Castle)
11. Gake No Ue No Ponyo Remix - (Ponyo On THe Cliff)
12. Tonari No Totoro Remix - (My Neighbor Totoro)
While Media Factory is handling the Japanese release and has listed the release for preorder in Japan with the release set for March 14th, the international release has yet to be confirmed. Italian extreme metal label Coroner Records handled the previous international release of the first Princess Ghibli album, but has yet to announce international release details for this album, as the record's executive producer in Ettore Rigotti is also the Coroner Records label head.
As I purchased the last album and loved it immensely, I can't wait to hear what the Only Yesterday and Earthsea covers sound like. If you've never heard the Imaginary Flying Machines project, watch a couple of tracks I've embedded below from the first album and buy it from Amazon if you like it:
via Matsuri Italia
---
Humberto Saabedra is the Editor-in-Chief of AnimeNews.biz, PhoneNews.com and an occasional columnist for Ani.me. He can also be found musing on his favorite 2D girls at @AnimeNewsdotbiz.