12-episode series will be available digitally soon, subtitled DVD later this year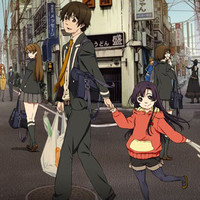 Sentai Filmworks has announced the licensing of Kurenai, the 12-episode anime that pits a seven-year-old heiress and her teenage bodyguard against her own family. The light novels by Kentaro Katayama, with illustrations from Yamoto Yamamoto, were adapted by Kou Matsuo (Rozen Maiden, Yozakura Quartet), with character designs from Kumi Ishii (Rozen Maiden, Oreimo).
The series will be available digitally soon, with a home video release on subtitled DVD scheduled for later this year.

From Sentai's description:

He's only a teenager, but Kurenai Shinkurou is already both a master of an arcane martial art and an experienced professional mediator with a long track record of resolving disputes. Not bad for someone who's just sixteen and still in school, but everyone has their limits and Kurenai may have met his when his boss and role model, Benika, responds to his request for a more challenging assignment by giving him the task of protecting young Murasaki Kuhoin. Never mind that she's only seven, the fact that the people Kurenai's supposed to protect her from are her own very rich and extremely powerful family is guaranteed to take this job into the danger zone. Now the heat is on and Kurenai's scrambling to put out as many fires as he can, even as the secrets surrounding his young charge bring everything else to a flashpoint in Kurenai!