"Mugen no Ai" Single Goes on Sale March 7 in Japan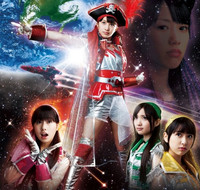 Confession: In a world where AKB48 dominates the media and K-pop has taken over the J-pop charts, Momoiro Clover Z is my favorite idol group going right now. Seriously, I don't fall easily for such acts, but Momoiro's mix of crazy Power Rangers costumes, bonkers pro-wrestling style promotion gimmicks, and hyper theatrical music + dancing has made me a believer in their madness. Heck, I've even written a very long-winded essay about them over on my blog!
Now, Momoiro Clover Z has delivered their boldest promo video to date: a clip for Mugen no Ai (AKA Infinite Love) best known as the opening theme song from the Bodacious Space Pirates anime. Perhaps it was even filmed on the surface of the moon? I'd like to think so, anyways...
Filled with allusions to E.T., Dragon Ball Z, complete with tri-cornered hats and guitar pyrotechnics by Marty Friedman of Megadeath fame, this clip should fulfill your need for Saturday morning space opera eye-candy entertainment. If not, you can always watch Bodacious Space Pirates here on Crunchyroll as well…
Now pardon me while I go ride my bike to the moon.
-------
Patrick Macias is editor in chief of Crunchyroll News. He also runs the Japanese Fashion Inferno tumblr blog. Follow him on twitter at @Patrick_Macias.