1/12 scale kit scheduled for June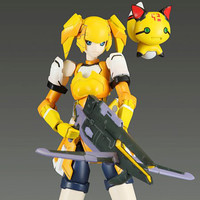 Kotobukiya has revealed on Facebook that it plans to import the Phantasy Star Online Blue Burst RAcaseal Yellowboze Ver. Apsy model kit to North America in June 2012.
From their description:
A Kotobukiya Japanese import! Up next from Sega's popular Phantasy Star Online series is the fourth model kit and member of the "Racaseal" elite female android ranger class, Blue Burst RAcaseal Yellowboze Ver. Apsy! From the "Blue Burst" port, this robot's sculpt was based on a design by Maki Asai (known for his Busou Shinki sculpts). Like Elenor, Shino, and Whitill before her, Yellowboze is a humanoid robot wearing elements of a traditional French maid outfit. Sculpted by Apsy Masaki, she stands nearly 5 ½ inches tall (1/12 scale), and is comprised of approximately 150 individual pieces. With sophisticated joints and a top notch sculpt Yellowboze has multiple points of articulation for extreme poseability! When it comes time to fight you can outfit your RAcaseal with a variety of parts and weapons (all of which are interchangeable with previous RAcaseals) including the double saber to create a wide range of action poses. Also, as a bonus part the front hair piece for Elenor is included. Yellowboze is easy to put together with snap-fit assembly that requires no glue, and parts cast in multiple colors mean that painting isn't necessary. Best of all, her striking yellow, white, and blue color scheme looks great next to the previously released Elenor, Shino, and Whitill (sold separately)!