"Tekken" producer Katsuhiro Harada also makes a special appearance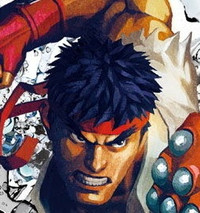 Capcom is hosting the Super Street Fighter IV Arcade Edition Official National Tournament in Shinagawa Intercity Hall on March 3rd, pitting Japan's strongest players against each other to celebrate the March 8 release of Street Fighter X Tekken.
The four winners of the "Miss Street Fighter X Tekken" competition will make an appearance in-costume, and will play tag matches against each other. Just to clarify, they will be playing tag matches of Street Fighter X Tekken, not Jello wrestling, as this is a family event.
Miss Nina
Miss Chun-li
Miss Cammy
Miss Asuka
Attendees will also get to play Street Fighter X Tekken on kiosks where they'll be able to check out PS3-exclusive characters like Cole, Mega Man, and Pac-Man. Tournament winners will walk away with prize packages featuring the game, sponsors' merchandise, arcade sticks, and more.
Just for attending, fans will get a clear file with Street Fighter X Tekken art on one side and Super Street Fighter IV AE on the other, as well as a "Saikyo" hand towel, which is the only piece of promo merch I've seen that allows you to manhandle leading men from fighting games.
The tournament also has a special guest--Tekken producer Katsuhiro Harada, subbing in for Street Fighter producer Yoshinori Ono.
While we won't get Ono's antics (accompanied by his beloved Blanka toy), we will get Katsuhiro Harada, his sunglasses indoors, and his well-groomed beard. Honestly, I don't know why former Dead or Alive producer Tomonobu Itagaki went so out of his way to antagonize this guy--he looks like a Yakuza enforcer.
EVO is awesome, but we don't get stuff like this at our tournaments! Oh well. What do you think? If you could attend the Official National Tournament for Japan's Street Fighter scene, would you?
via Andriasang