Manga's answer to Indiana Jones is back to explore new mysteries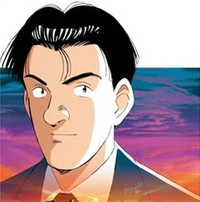 Hokusei Katsushika and Naoki Urasawa's Taichi Hiraga-Keaton is one of manga's answers to Indiana Jones - a divorcé, Lloyd's of London investigator, ex-SAS, Falklands War veteran, and archaeologist. The mystery/adventure series Master Keaton ran in Big Comic Original for 18 volumes from November 1988 to August 1994, and now it's returning.
According to the band on volume eight of the series' re-release, Keaton will be returning with Master Keaton Re-Master, set 20 years after the original. The new exploration of mysteries, both ancient and modern, kicks off in Big Comic Original on March 19th. Whether Re-Master will be an ongoing or one-shot has not been specified.
Geneon released Madhouse's 39-episode anime adaptation of Master Keaton in North America.
via Comic Natalie