13 song original concept album coming April 25th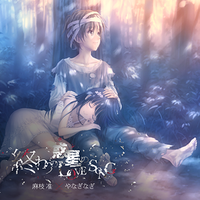 For those who have enjoyed "Killer Song" and "Owari no Sekai Kara" and want more, details of the release of the Owari no Hoshi no Love Song original concept album by composer and lyricist Jun Maeda (Angel Beats, Clannad) and vocalist Yanaginagi (Bakemonogatari ED, Ano Natsu de Matteru ED) have been made available as the CD has gone up for pre-order.
The 13 song CD will be released on April 25th. The regular edition will go for the relatively standard album price of 3150 yen (~$40 USD) while the 3675 yen limited edition will contain a DVD with 5 full music videos on it. Both editions will contain a special booklet with illustrations for all the songs, likely similar to those being posted on the official site:
(Killer song by ZEN)
(Flower Garden by Nanakusa)
The site suggests two more preview videos will be made available in the future.
via 0takomu
Images ©flaming-june
Previously: VIDEO: 2nd Video for Key's Jun Maeda/Vocalist Yanaginagi "Owari no Hoshi no Love Song" Project