Marvel fans, get ready for sensory overload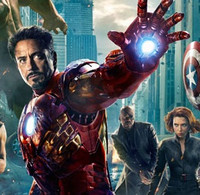 Say what you will about Marvel's upcoming theatrical version of The Avengers--Captain America's goofy helmet, replacing Edward Norton with Mark Ruffalo, or how Scarlett Johansson seems to have only one facial expression--but this movie looks like a lot of care and research was put into it. Earth's Mightiest Heroes are getting one hell of a big-screen debut, and the newest trailer gives each one of the Avengers some face time.
Because people like constant drama these days for some reason, I was worried that Joss Whedon and crew were going to miss the most important part of the Avengers: the camaraderie and teamwork. Longtime Marvelites can rest easy, as it looks like the Avengers will not only work together to bust Skrull heads, but will help each other up when they're down.
Are you looking forward to The Avengers? Marvel fans, what are some storyarcs you think would be perfect for the new Marvel movies?
via JoBlo