Make your face like (・ω<) when you say it!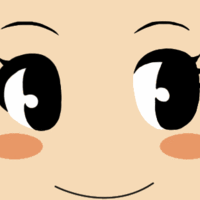 Tehepero! (・ω<) But what does it mean? Where did it come from?! What on earth could happen related to it on March 9th?!? Let's back up a moment and investigate origins...
"Tehepero" is the trademark gag of voice actress Yōko Hikasa (Nobara Yukinokōji from Inu x Boku SS, Sera from Kore wa Zombie Desu ka?). It was first used in public on the radio show Odoroki Sentai Momoniki Five, episode 12. Apparently at the time Eriko Nakamura (also on the radio show; Haruka Amami in THE [email protected], Belgium in Hetalia: Axis Powers) had predicted it would become a popular buzzword, but then...it actually happened! The word "tehepero" spread like crazy and got second place in a ranking of middle and high school girls' cell phone slang last December.
One pretty early appearance came in a show that Hikasa is not even in! Did you see てへぺろ scrawled on the blackboard in the first episode of Baka and Test (2010)?
Mayu Watanabe from AKB48 reportedly started using it on her blog almost exactly a year ago. She was blogging about it again just last month, though, after one of the Music Station TV show hosts tehepero'd:
Good evening! It's Mayuyu!
Did everybody see?!
On yesterday's M Station!
I couldn't believe it!
The day Tamori tehepero'd!!
Miss Yōko Hikasaaaaa!
Are you watchiiiiiing!!!
Tehepero is Hiyocchi's thing, everybody!
Please remember that!
Don't forget it!
[...]
And Hikasa responded! So cute:
Mayuyu-chaaaaan
I saaaaaaaaw!!
Thanks!
You're such a caring girl and
so kind…(tear)
The reason it's handled
so widely in media is
because you used it, right?
Thank you so much
During recording
at places where actresses
who like to ad lib gather
it's naturally a tehepero hell.
Recently I've enjoyed
seeing so many kinds of tehepero
Here's another crazy tehepero sighting, a Softbank commercial series that started earlier this year about Tada (played by Triendl Reina, who incidentally was born in Vienna to an Austrian dad and Japanese mom). She's just a girl studying abroad from Hawaii...?
NOPE! "Tehepero (・ω<)" (Did you hear it at the end?) She's actually from "Hawai" in Tottori prefecture (although this town apparently doesn't exist anymore following a merge). It's after that kind of slightly obnoxious joke or annoyance/faux pas you commit, but adorably get away with, that is the perfect time to tehepero! Take note! Lighten the mood after slipping up...with tehepero (・ω<)
Finally, ok, sorry, I have no idea what this site is teasing (it's very mysterious), but doesn't it make you HAPPY? Push every button a million times and enjoy tehepero delight!
Tehepero! Something will happen on March 9th!?
Bonus video! "The Tehepero Song" appears last May at a Tower Records in-store event for azusa (who sang the theme to Amagami SS+) where Hikasa guest MC'd:
Ok, your homework is to use "tehepero" correctly in the comments. I know it may be tricky, so we won't grade too harshly ;) If you need inspiration, remember that Hikasa played Mio from K-On! and check out this video of her teheperoing with Satomi Satō (Ritsu) on stage at a movie promo event over coming dressed as each other.