The fur flies as cats battle it out for coveted number one spot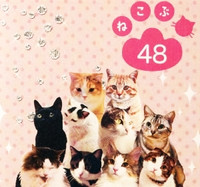 Cats and j-pop idol groups are on the short list of things Japan really loves at obsessive levels of intensity. So why not combine them in the hopes of making a buck or two?
Enter NKB48 (full name: NeKoBu48, neko being Japanese for "cat"), an all-feline idol group created by on-line mail order cat shop felissimo.
Felissimo targets pussycat connoisseurs "who think their cat is the cutest, who want to have a cat someday, and – if they could – would want to become a cat". This being the case, perhaps it is no surprise that they've gone the extra step into otaku territory by creating an idol unit of furry four legged critters.
Tearing a page from the AKB48 playbook, "elections" have been held to determine who are the most popular members of NKB48. The first round was held last fall and the winner of the coveted number one spot was an Osaka-based cat named April ("She's a baby face, but can look after the house" felissimo helpfully explains).
And again, ala AKB48, ultimately all this dazzling show-biz hoo-hah comes down to merchandising. The top ten ranked pussycats in NKB48 will be emblazoned on original goods. They include sets of profile cards, sticker sheets, and perhaps best of all, micro-fiber hand towels. One side is pur-fectly normal while the other features a loving close-up, which can be folded over so no one knows as you secretly gaze at your favorite NKB48 idol in the best "crazy cat lady" tradition (below).
Just about the only angle NKB48 has yet to play is the glaringly obvious one. Perhaps it's only a matter of time until the assorted Mrs. and Mr. Whiskers of NKB48 follow in the paw prints of Jingle Cats, Keyboard Cat, and Nyan Cat and start making beautiful music together. Let's hope so, anyways.
-------
Patrick Macias is editor in chief of Crunchyroll News. He also runs the Japanese Fashion Inferno tumblr blog. Follow him on twitter at @Patrick_Macias.