Self-proclaimed savior of anime to detail new project based on March 11th earthquake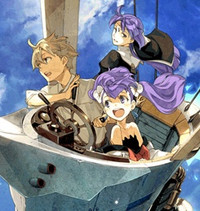 Polarizing anime director Yutaka Yamamoto will finally reveal his long-awaited anime project during this month's Tokyo International Anime Fair as a part of a planned stage presentation for his current anime production studio Ordet, which is currently handling production on the equally polarizing Black Rock Shooter on TV, currently airing on the noitaminA block.
Yamakan previously teased the project way back in October of last year, following the massive worldwide success of his last project in Fractale, which is currently licensed by Funimation and will be released sometime this year. The project's current placeholder title is "Project Blossom" but further details have yet to be confirmed and are expected at the presentation being held later this month on the 25th. The project is speculated to be a work for charity for survivors of last year's March 11th earthquake and tsunami.
Anyone looking forward to Yamakan's last project, or did you give up on him after Fractale?
via 0takomu
---
Humberto Saabedra is the Editor-in-Chief of AnimeNews.biz, PhoneNews.com and an occasional columnist for Ani.me. He can also be found musing on his favorite 2D girls at @AnimeNewsdotbiz.