Japan exclusive Lollipop Chainsaw DLC features Manyuu Hikenchou, Is this a Zombie, Highschool of the Dead and Deadman Wonderland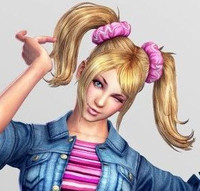 Lollipop Chainsaw is shaping up to be one of the most popular releases of the Summer, now that the game has a June 12th release date in North America on a typically slow period for new games and now, Japan is set to get even more DLC for the game, in the form of new costumes licensed from popular anime and manga according to a scan of the latest Dengeki Playstation.
According to the report connected to the scan, the following costumes will be made available as paid DLC in Japan:
Highschool of the Dead: Saeko Busujima and Rei Miyamoto
Deadman Wonderland: Shiro
Is This a Zombie?: Haruna
Manyu Hiken-cho: Manyu Chifusa
These new costumes follow the first wave offered with both the Japanese Premium Edition and the regular edition at launch in February and pricing for the new costumes is yet to be confirmed as well as if they'll be making the trip to the US.
Personally, I'm hoping these new costumes are licensed for release here rather than just being stuck with the first set, but what about you guys? Will these new costumes convince you to import the game or will you wait hoping that they get brought over for the US release?
---
Humberto Saabedra is the Editor-in-Chief of AnimeNews.biz, PhoneNews.com and an occasional columnist for Ani.me. He can also be found musing on his favorite 2D girls at @AnimeNewsdotbiz.