Adaptation of Chūya Koyama's manga starts in April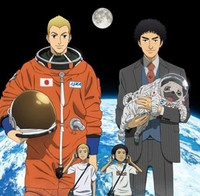 Directed by Doraemon veteran Ayumu Watanabe and adapted from a manga by Chūya Koyama, Space Bros. (Uchū Kyōdai) is set to premiere in Japan on April 1. If you want an early look at the anime, the official website is now streaming a promo, which you can launch into below.
Space Bros. follows two brothers, Mutta (Hiroaki Hirata) and Hibito Nanba (Kenn), who both want to become astronauts. Only the younger brother, Hibito, succeeds in following through with their vow, but Mutta's life ends up changing on one fateful day.
Call it Space Brothers or Space Bros., but I just really like reading it as SPACE BROS. YO, BRO, GOIN' TO SPACE (high five, elbow bump). We also posted a 94-second trailer of the live-action film adaptation yesterday.
Via ANN