The idols pose in wedding dresses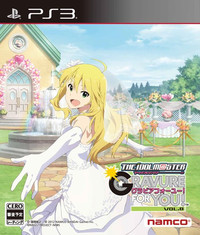 Namco Bandai Games is now streaming game footage from The [email protected] Gravure for You (G4U) Vol 8 on their official Youtube channel. Volume 8 will be released on May 24th in the "Anime and G4U! Pack Vol. 8." Featuring Miki as the cover girl, volume 8 is a "Wedding special" with the "Dreamy Wedding" wedding dress at a church and the idol's image color "Pastel Bikini" at the seashore and a special horizon and sandy beach location available through Pandora' box.
Watch the game footage below:
The angle, zoom, and depth of field are in your control and the background music is also configurable as shown. Here are some screenshots and photos taken from volume 8. Additional screenshots and photos can be seen at the links at the bottom.

Appearing in this volume's pandora's box is a different bonus idol, 876 production's Eri Mizutani, voiced by Kana Hanazawa. Again, she's limited to a single outfit, posing in a Pastel Bikini at the special horizon and sandy beach location.
Starting with volume 2, all volumes of Gravure For You will be released monthly with the limited edition Blu-ray volume of the anime in "Anime and G4U!" packs. Namco Bandai has previously streamed game footage from volume 7 with summer school uniforms and PE uniforms, game footage from volume 6 in the studio with vampires and on the beach with devil's swimwear, game footage from volume 5 in the house studio, game footage from volume 4 which takes place in the studio and on the beach, game footage from volume 3, which takes places in the city and a beach, game footage from volume 2, which takes place in a classroom, and game footage from volume 1 which takes place at the beach and will be included in the [email protected] 2 PS3 Limited Edition "Imas @ Special BOX."
Source: 4gamer.net
Image ©窪岡俊之 ©NBGI
Previously: Namco Bandai Streams "[email protected] Gravure For You Vol 7" Game Footage