Digital artbook to be updated with new images and audio frequently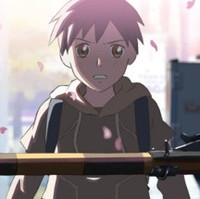 For fans of the landmark film 5cm Per Second that also happen to own an iPhone, iPod Touch or iPad, a new app has been released on iTunes in the 5 Centimeters per Second Film Art Book I: Oukasho app.
The app is being billed by the authorized developer as a digital artbook that features a series of stills from the film as well as select musical selections that can be used as accompaniement while viewing the stills, either individually or as a slideshow. As a bonus, the app also features a clock mode that can be used instead of the normal standby screen as well as the capability to apply individual scenes as a wallpaper.
Pricing for the app is set at $1.99 and will be updated frequently with the second and third chapters in the Oukasho storyline soon. With the Global Shinkai Day celebrations coming up this weekend on Crunchyroll, are any of you interested in this app?
---
Humberto Saabedra is the Editor-in-Chief of AnimeNews.biz, PhoneNews.com and an occasional columnist for Ani.me. He can also be found musing on his favorite 2D girls at @AnimeNewsdotbiz.