Next step: holographic displays and touchscreens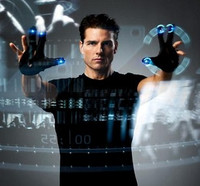 Make no bones about it: this is the future.
Okay, maybe it's not a future with hovercars and jet packs, but I have a device in my pocket that multi-tasks as a phone, camera, video camera, computer, game system, price scanner and flashlight, and the world at large expects most of those capabilities in a phone.
Expect things to get even more futuristic with this unique piece of tech, as the Ion Wireless Air Mouse lets you control your on-screen mouse pointer with your hands, using quick gestures for left- and right-clicking.
While I don't think this is going to take off anytime soon (and looks like it could get kind of uncomfortable over time), it would at least look pretty slick, and may eventually lead to crazier, science-fiction style interfaces like the holographic touchscreens in Mass Effect or Minority Report.
Worst-case scenario means we're probably going to be directly plugging in and using a mental control interface like Ghost in the Shell. What do you think? Is this the start of something cool, or is it just too clunky?
via DVice