Opening theme to be sung by voice cast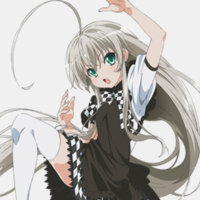 The official website of the April anime Haiyore! Naruko-san (aka Nyarko-san: Another Crawling Chaos!) has updated with a new key visual (below) and the details on the opening and ending songs.
The opening theme will be "Taiyou Iwaku Moeyo Chaos" (roughly "Quote the Sun: Burn, Chaos!") sung by the "Ushiro kara Haiyori Tai G" (roughly "Squad G that creeps up from behind you") which is made of Nyaruko (c.v. Kana Asumi), Kuuko (c.v. Miyu Matsuki), and Tamao Kurei (c.v. Yuka Ootsubo)
The ending theme will be "Zutto Be with you" ("Always be with you") by "RAMM ni Haiyoru Nyaruko-san" (roughly "Nyaruko-san that creeps up on RAMM"). RAMM is the musical unit of REDALiCE, the DJ and producer who has even performed in the US, and Masayoshi Minoshima of Alstroemeria Records, sound producer of the famous touhou doujin song and current most viewed video ever NicoNico Douga, "Bad Apple!"
The CD for both the opening and ending will be released separately on May 25th. The series premieres on April 9th in Japan.
Soure: Official Site, Mu-Mo Entertainment News via 0takomu
Image ©逢空万太・ソフトバンク クリエイティブ/名状しがたい製作委員会のようなもの