First-time sign-ups to digital manga portal can receive up to five free books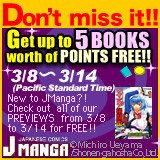 To celebrate opening its doors to readers from around the globe, digital manga portal JManga.com will be offering a sign-up bonus promotion. Through March 14th, new members who sign up will receive up to five books worth of free bonus points.
First-time sign-ups for the $10 plan will receive two books worth of bonus points for free, while new sign-ups to the $25 monthly plan will receive five books worth of points. Promotion times are based on US Pacific Standard Time, and the availability of titles may differ from country to country.
Normally, unregistered guest users can only preview six titles on JManga.com, but during this special promotion 199 titles will be available for free previewing to anyone who visits the site.