PONPONPON singer adds Harajuku style to soda pop campaign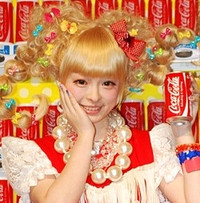 When last we left off in the on-going saga of Kyary Pamyu Pamyu, our heroine had, in short succession, released a new single in Japan, battled a sumo wrestler in an epic air hockey match, changed her identity to help promote tongue brushing tablets, and then defied all expectations by cosplaying as a Rubik's Cube.
Now, this multi-faceted singer, model, and all-around media personality has unveiled her new alter-ego: a madcap Coca-Cola machine that will soon be rolled out into service in Tokyo's famed Harajuku district.
The video below is taken direct from yesterday's soda pop flavored press conference wherein Kyary revealed, "This machine is designed to resemble me, especially the wig and wire work…I wanted to give something back to Harajuku; the town that brought me up and made me more energetic than before."