Cure Peace, the first Otaku PreCure attracts the adult fans strongly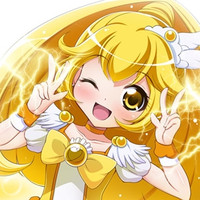 The Japanese communications service provider NEC BIGLOBE reported on March 8 that "PreCure" was the #6 most Tweeted and #1 hashtagged word in Japan from February 1 to March 1. Each were the highest positions for anime/manga related words in February. The reason for the extreme popularity was no doubt the sensational start of the newest TV series Smile PreCure! on February 5. 
The main audience for the PreCure series are preschool and preteen children (age of 4 to 12), who are definitely not heavy Twitter users. So, who is tweeting about PreCure so frequently? Of course Japanese Otaku! It is sure that Cure Peace/Yayoi Kise (the yellow one) is one of the reasons why the show has attracted so many Japanese Otaku. She is cute. She is loli (very important). She is not too strong. And most importantly, she is very good at drawing manga, which means she must be
Otaku, too! The first episode of the manga serialized in the Nakayoshi magazine implies she even
publishes her own doujinshi. The fans have welcomed and loved the first Otaku PreCure so much.
Cure Peace
Yayoi Kise in school uniform
Cure Peace is also very popular among Japanese amateur illustrators in Pixiv.
Here's some examples.
by Komore
by Koyuri
by Yazawan
by Akira Kuto
Source: NEC BIGLOBE's press release via Netlabo
© ABC/Toei Animation