"Persona 4" hits Vita June 14th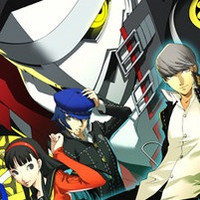 Famitsu brings us an early look at the Persona 4: The Golden (PS Vita) box art. The illustration is by character designer and art director Shigenori Soejima:
Keep in mind this is the Japanese box.
They also detailed the contents of a special Famitsu DX Pack of the game which includes:
Persona 4: The Golden
Marie's multi-purpose pouch
Set of 10 special postcards
Set of six A3 size clear posters, five of which are drawn by the people listed below:
*Shigenori Soejima (who, you'll recall, did the above box art)
*Mad House (opening animation of the game; work in progress example above—they can't reveal all of it due to spoilers)
*Studio Hibari
*Shūji Sogabe (Persona 4 manga)
*Hiroyuki Maeda (who does Famitsu covers; see his illustration above)
They're taking preorders now, but the Famitsu DX pack goes on sale the same day as the Persona 4: The Golden game itself, June 14th.
© Index Corporation 1996,2011 Produced by ATLUS