Series originally conceived to have two seasons with a split schedule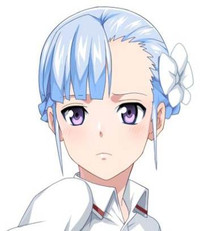 The official Twitter account for the Rinne no Lagrange animated series has confirmed that the show will continue for another season, although it did not immediately confirm the airdates and times, despite the initial confirmation that the show would be split into two seasons back in December according to a Japanese newspaper report that also confirmed that the second season would air in July of this year and run through September.
The series is currently being simulcast in the US by Viz Media, although it has yet to confirm plans for scheduling of the second season or if they have simulcast rights to the second season to begin with. Now that the second season for Lagrange has been confirmed, anyone here excited for it? I want more Lan screentime, though Madoka's proven herself to be a very likable character.
---
Humberto Saabedra is the Editor-in-Chief of AnimeNews.biz, PhoneNews.com and an occasional columnist for Ani.me. He can also be found musing on his favorite 2D girls at @AnimeNewsdotbiz.