Release to include Carl Macek directed English dub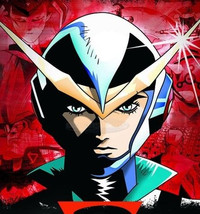 Ever the intrepid company despite its small size, Discotek Media continues on its old-school anime kick and has announced the forthcoming release of the 1993 Casshan: Robot Hunter OVA series produced by Tatsunoko Pro and Artmic at the tail-end of the OVA boom.
The Discotek release will also include the Harmony Gold produced English dub, which was notable for being directed by polarizing industry figure Carl Macek when the OVA series was originally released in 1995 as an edited 100 minute feature film version in the US, and was one of many directorial projects for the producer and scriptwriter. The release is scheduled for later this year with pricing and availability yet to be determined.
Synopsis:
Enslaved by an army of rebellious super robots originally designed to help civilization avert a complete ecological cataclysm, mankind's only hope is Casshan, a legendary hero who wages a solitary war to defeat the NEOROIDS and restore the Earth to its rightful order. Ironically, Casshan's father is the same scientist who engineered the race of super androids now threatening to destroy all of mankind. On a crusade to clear the name of his father, Casshan must sacrifice his own humanity in order to attain the powers he needs to defeat mankind's powerful enemies. However, Casshan's power does not come without a price. Haunted by the memories of his murdered mother and forced to deal with a super robot that has absorbed and now manipulates the consciousness of his father, Casshan must put aside his own emotions and fight to preserve the survival of the human race.
---
Humberto Saabedra is the Editor-in-Chief of AnimeNews.biz, PhoneNews.com and an occasional columnist for Ani.me. He can also be found musing on his favorite 2D girls at @AnimeNewsdotbiz.