Complete series in dub and sub form listed as "coming soon"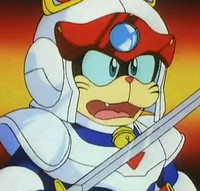 Discotek Media is on a roll this afternoon. Mere moments after announcing Casshan: Robot Hunter on its Facebook page, it rolled out a whole pizza pie's worth of goodness by announcing the release of Samurai Pizza Cats on DVD.
Discotek's release of the series will come in two flavors (no 'chovies), as the company stated that there would be an English dubbed release, as well as a Japanese language release with English subtitles.
A Tatsunoko Production, Samurai Pizza Cats originally aired on TV Tokyo as Cat Ninja Legend Teyandee from 1990-1991. It was broadcast on US television courtesy of Saban in 1991. Who else has fond memories of Samurai Pizza Cats? I know I can't wait!