The animated invasion continues in August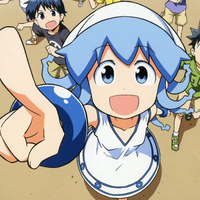 Pictures from this week's issue of Weekly Shonen Champion have revealed that the limited edition 12th volume of Masahiro Anbe's Shinryaku! Ika Musume (aka Squid Girl) manga will include an original anime DVD (OAD). The 12th volume is the next volume, which will be released on August 8th, 2012. More details will be revealed in future issues of Weekly Shonen Champion.
The bottom of the picture advertises the 4th volume of the home video release of the second season of Squid Girl (Shinryaku!? Ika Musume) which will include an Invasion Supporter Card w/ serial number and clear sheets.
via 0takomu
Photo via Earlbox, Squid Girl ©Masahiro Anbe/Weekly Shonen Champion