Two Ghibli firsts scheduled for Blu-ray/DVD combo packs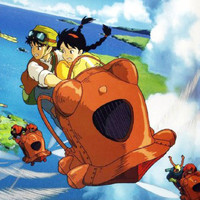 While specific release dates haven't been revealed, retailers such as Amazon are showing that DVD/Blu-ray combos of Studio Ghibli's Castle in the Sky and Whisper of the Heart are on Disney's docket, potentially to be released alongside Arrietty.
While Hayao Miyazaki's 1986 Castle in the Sky was the first movie produced by the then newly founded Studio Ghibli, Yoshifumi Kondo's Whisper of the Heart was the studio's first theatrical movie not directed by Ghibli co-founders Hayao Miyazaki and Isao Takahata (Tomomi Mochizuki's TV movie Ocean Waves predated it).
The combo packs are priced at $39.99.