Korra to anchor Saturday morning action block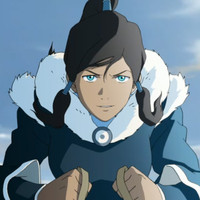 On March 14th, Nickelodeon held its annual upfront presentation, previewing 650 episodes of new content to the TV industry. Among the announcements was that Avatar: The Last Airbender followup Legend of Korra will debut Saturday, April 14, at 11:00 a.m. (all times ET/PT), as part of Nickelodeon's Saturday morning block (8AM-Noon).
From the announcement:
The Legend of Korra, in which the mythology of the beloved animated franchise from Avatar: The Last Airbender creators Michael Dante DiMartino and Bryan Konietzko continues. The series centers around a new Avatar named Korra, a 17-year-old headstrong and rebellious girl who continually challenges and bucks tradition on her quest to become a fully realized Avatar in a world where benders are under attack. The half-hour series will debut on Saturday, April 14, at 11:00 a.m. (all times ET/PT), as part of Nickelodeon's Saturday morning block (8AM-Noon), which has been the number-one destination for Kids 2-11 for 12 consecutive years and currently delivers more than three million total viewers each week. The Legend of Korra will air regularly on Saturday at 11:00 a.m.
Preview media recently posted on the Korra Nation tumblr include:
Pencil test of Korra & Bolin competing in a Pro-Bending match.
Pencil test of the opening credits for Legend of Korra, showing 3 distinct bending styles of movement.
Early design work for Toza, a former Pro-Bender who gave Mako & Bolin a place to stay when they started competing.
A collection of character sketches from a production meeting - including Korra and a shot of her father.
Development art of the Avatar Aang statue by co-executive producer Joaquim Dos Santos. The statue was a gift from the Fire Nation to stand as a symbol of peace and goodwill.

An early sketch design for Asami Sato - a young non-bender and daughter to a wealthy industrialist.
Also from Nick's announcements:
New episodes of returning series including SpongeBob SquarePants, T.U.F.F. Puppy, Kung Fu Panda: Legends of Awesomeness, The Penguins of Madagascar, The Fairly OddParents and The Winx Club.
Raving Rabbids, which will join the net's animation line-up in spring 2013, brings to television the hysterical physical comedy that has become so popular in Ubisoft's Raving Rabbids video games. Nickelodeon has secured global broadcast rights for 26 new CG episodes of Raving Rabbids, which will be produced by Ubisoft.
Monsters vs. Aliens, the all-new animated television series marking the third partnership between Nickelodeon and DreamWorks Animation. Green-lit for 26 episodes and based on the popular characters from the 2009 blockbuster hit feature film ($383 million worldwide gross); the new series will continue to follow the funny escapades of the beloved, well-meaning monsters.
Robot & Monster, which will also be hitting Nickelodeon's air for a 26-episode run for the 2012-2013 season. Created by Josh Sternin, Jeff Ventimilia and Dave Pressler, this CG-animated buddy comedy is set in a unique world where gangs of Howling Cyber Monkeys roam the streets at night, everybody loves bacon, and robots and monsters live side by side, but typically don't get along.