Namco Namja Town holds Aniplex festival March 17th-May13th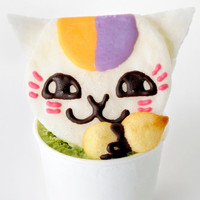 Similar to previous events based on tie-ins to anime such as Tiger & Bunny and K-on!, the Namco Namja Town indoor theme park in Ikebukuro, Tokyo will be offering a line-up of treats and attractions based Natsume Yujin-cho, Hotarubi no Mori e, You and Me 2, and Inu X Boku Secret Service as part of Aniplex Spring Girls Festival March 17th to May 13th. There are 15 food items in all and purchasers receive a photo card from the show they are snacking on.
Natsume Yujin-cho dishes:
Nyanko-sensei's Merrymaking Sherbert
Nyanko-sensei Loves Fried Prawns
Kemari's Repayment Ice Cream Crepe
Round Nyanko-Sensei Dumplings
Hotarubi no Mori e dishes:
Gin and Hotaru's Summer Festival Date
Gin's Flakey Millefeuille
You and Me 2 dishes:
Yuuta and Yuuki's Gooey Ice Cream
Kaname's Serious Glasses Chocolate Tart
Tea Ceremony Club's Summer Matcha Pasta
You and Me Set
Inu X Boku Secret Service dishes:
Room 1 SS
Kagerou and Karuta's Ice Cream Parfait - It's good it's goood!
Soushi's Pudding that Ririchiyo Loves
Soushi and Ririchiyo's Master-Servant Contract Tortilla
Curry Udon for Breakfast?