Meet Hagane Miku, Metalne Luca Turilli, Kagamine Rin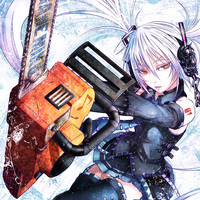 Fan artist K-Suwabe, best known for his fictional Osamu Tezuka fighting game Symphony of the Blood (but whom we have covered previously for other things), has created a series of designs for heavy metal-inspired Vocaloid remixes called "Metaloids." Meet Hagane Miku (a pun on Hatsune Miku's name and the Japanese world for steel), Metalne Luca Turilli, plus Hatsune Miku and Kagamine Rin.
inspired by Rhapsody of Fire's Emerald Sword
K-Suwabe promises a twin-guitar for Len.
Some more placid work by the artist...