Star Blazer's Bad Guy With a Heart of Gold Was Born on 3/19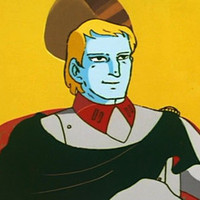 I'm still not sure exactly how many ever-ready, down-to-die old school anime fans we have hanging out regularly on Crunchyroll News, but those of you who are… prepare yourselves.
Today is the birthday of Leader Desslok, the blue-faced bad guy with the heart of gold from Star Blazers (AKA Dessler Soto from Space Battleship Yamato).
According to Star Blazers / Yamato super fan Jeff Blend (via the Starblazers.com Official Community on facebook)
"It seems some Japanese fans calculated the Yamato's navigation schedule for Yamato 3, and have determined March 19th Earth calendar as the birthday of Leader Desslar. It was made "official" last year (2011). So celebrate - if you know what's good for you!"
The gift that keeps on giving: Desslok Wine (about $163.00)
You may now all join me in a victory chant of "DESS-lok Desslok-Desslok, DESS-lok Desslok-Desslok!"
While Desslok may be an icon of old-school anime, the birthday boy is set to make a comeback when Space Battleship Yamato 2199 his theaters, video stores, and TV in Japan later this year. Here's the new slightly bishy design below:
-------
Patrick Macias is editor in chief of Crunchyroll News. He also runs the Japanese Fashion Inferno tumblr blog. Follow him on twitter at @Patrick_Macias.