Combining monster hero referenced in pop culture from "Battle Royale" to "Excel Saga"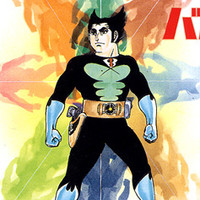 Legal digital manga portal JManga has added a slate of new manga that includes Takao Saito's influential Barom One, Makoto Tateno's yaoi Yokan - Premonition, the second volume of Kotobuki Shiriagari's (Ax: Alternative Manga) corporate comedy O.SHI.GO.TO., and the third of Ryo Ikuemi's josei romance Cousin.
Golgo 13 creator Takao Saito's Barom One follows the story of two childhood friends who merge into the titular monster hero Barom One to protect the world from evil. It was adapted into a 1972 live-action tokusatsu show, but it also became something of a metaphor in Japanese pop culture, referenced in places from the manga versions of Battle Royale to Excel Saga.
The full slate of JManga additions includes:

Barom One Vol. 1
Created by Takao Saito
Story
Barom One is a timeless masterpiece that depicts the epic battle against the evil of the universe, Doruge. The defender of justice, Kopuu, bestows the power to transform into the agent of justice, Barom One, to two young boys named Kentaro Shiratori and Kido Takeshi. A timeless battle against the evil of the universe unfolds.

O.SHI.GO.TO. Vol. 2
Created by Kotobuki Shiriagari
Story
This slice-of-life gag manga follows the exploits of Yomoyama Hanako as she joins the Planning Department of the Greater Japan Trading Company. Yomoyama soon learns to manage the madness of life in a typical Japanese office.

Cousin Vol. 3
Created by Ryo Ikuemi
Story
An 18-year-old girl who works part-time and never had a boyfriend... Things can't stay this way, right? Receiving a 100% positive response rate in fashion magazine, Zipper, this is a story for those who have ever thought to themselves, "Am I happy as I am right now?" and for those who want to "change."

Yokan - Premonition Vol. 1
Created by
Story
Akira, lead vocalist of the popular band CHARON, desires to have a song written by the famous actor and talented lyricist Sunaga. Sunaga agrees, but demands Akira's body as payment! Akira is faced with a dilemma, that isn't made any easier by Sunaga's carefree attitude and constant sexual advances. But is it just possible for Akira to maybe feel something for Sunaga too? From bestselling mangaka Makoto Tateno, creator of Yellow and Steal Moon!

The Cinderella Solution
Created by CATHY YARDLEY , KYOKO SAGARA
Story
"You're not the type of girl who can attract a man. If you get proposed to within the next month, I'll give you a thousand dollars!" Charlotte is a talented graphic designer, who spends her days in baggy jeans with ruffled hair. She knew her best friend, Gabe, doesn't see her as a lady, but if he's going to make such a bet, she can't just take it lying down! Charlotte decides to get back at Gabe by dramatically transforming herself...

Mistress Bought and Paid For
Created by LYNNE GRAHAM , JUNKO OKADA
Story
Supermodel Lydia took part in a fashion show organized for a charity for disadvantaged children. But the money from the show disappeared, and it was Lydia's mother who stole the money! Lydia cannot accept that this is what happened, even after being investigated by the police...because she blames herself for her mother's unhappiness. It is the wealthy Christiano who lends Lydia a helping hand in her time of need. Although his intentions are to spend the night with her!

Something from the Heart
Created by AMANDA BROWNING , KAZUKO FUJITA
Story
When Leigh was 10, Morgan became her stepbrother when their parents married. The tall 18-year-old boy gave Leigh a warm welcome and showed her what it was like to belong to a loving family. Ten years later, Morgan has moved abroad, but he left believing that Leigh was a despicable person following a terrible misunderstanding. A year later they meet again, but Leigh's hope that all will be well as soon as she explains herself is swept away as she is greeted by a cold and distant Morgan...

A Date with a Billionaire
Created by JULIANNA MORRIS , KAKO ITO
Story
"You've been chosen to date a billionaire!" Beth is startled to receive such a phone call. It appears her neighbor entered her in a competition without telling her! The prize is a date with Kane, a famous billionaire, but Beth is not interested and rejects this golden opportunity. The news reaches Kane and his heart is ignited—no woman could ever reject him, could she? His pride hurt, Kane vows to win over Beth's heart!

Claiming His Pregnant Wife
Created by KIM LAWRENCE , SARA NAKAYAMA
Story
Lost during a vacation in Italy, Erin meets an astonishingly handsome man riding his black horse. The two fall in love instantly, and they marry after only 5 days. She only knows him as Francesco, but he is, in fact, Europe's wealthiest banker! The dramatic changes in her life leave Erin confused, and she ends up accusing her husband of infidelity. Francesco is of no help as he refuses to console her, and their marriage slowly deteriorates...