Confirmation of license revealed by website registration info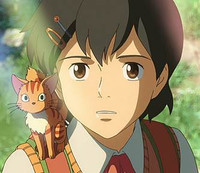 If you can remember last November, I last reported that the long-awaited Canadian screening of Makoto Shinkai's latest film in Children Who Chase Lost Voices from Deep Below was canceled due to the last-minute license of the film by a then unnamed American licensor.
It was discovered that Sentai Filmworks had indeed licensed the film last year and it was found via WHOIS registration information required in order to register a new domain under the S-F Domain dba, as the licensor has registered the domain http://childrenwhochaselostvoices.com for future use in its promotional plans for the film. The information was discovered shortly after the announcement of the license for the one-shot OVA This Boy Can Fight Aliens, also held by CoMix Wave in order to determine if any other CoMix Wave properties were held by Sentai Filmworks.
With Sentai Filmworks now holding the license, this marks the second time that the licensor has attempted to release a Makoto Shinkai work, as the previous company in ADV Films previously licensed both 5cm per second and Voices of a Distant Star along with The Place Promised in our Early Days before its licenses were pulled in 2008 and its subsequent re-organization into the current Sentai Filmworks in 2009.
Now that we know who has the license, are you hoping for an English dub and a Blu-Ray release or are you afraid of the typical barebones Sentai Filmworks release?
---
Humberto Saabedra is the Editor-in-Chief of AnimeNews.biz, PhoneNews.com and an occasional columnist for Ani.me. He can also be found musing on his favorite 2D girls at @AnimeNewsdotbiz.