Spring 2011 noitaminA original anime made into PSP game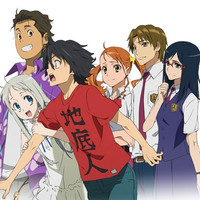 Famitsu has announced that last Springs's hit noitaminA anime, Ano Hi Mita Hana no Namae wo Bokutachi wa Mada Shiranai (aka AnoHana) will be getting a PSP game. The game will be released in Summer 2012 and is developed by guyzware and distributed by 5pb.
The game is an adventure game where the player becomes main character "Jintan" and advances through the story. The game will include additional events that were not in the anime. Additionally, the "Kyou no Menma" feature from the anime series official website will also be included as well as the series ending song "Secret Base ~Kimi ga Kuretamono~."
Image ©AnoHana Project