Adaptation appears to be in the works for Hiromu Arakawa's latest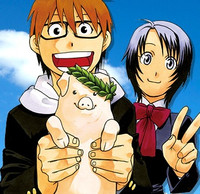 The latest manga from Fullmetal Alchemist creator Hiromu Arakawa, Silver Spoon (Gin no Saji), has only been running in Shogakukan's Weekly Shonen Sunday magazine since May 2011, but that isn't stopping talks of an anime adaptation. According to Da Vinci magazine, it appears plans are already underway to animate the series.
This may come as no surprise since we're talking about an Arakawa series here, but it's still pretty early! As an additional treat, the third volume of the Silver Spoon manga will come bundled with a silver spoon, pictured below, when it is released on April 18.
Silver Spoon was most recently announced as the winner of 2012's Manga Taishō Award. The story follows Yuugo Hachiken, who loses confidence in his academic abilities amidst the competition and enrolls in an agriculture high school, mostly to get away from his family.
Via MyAnimeList