10,000 supporters may fulfill the dream of commodification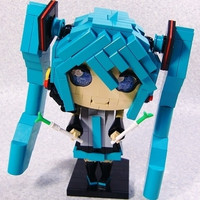 Cuusoo is a Japanese partner of the LEGO Group. If an idea submitted to their website gains 10,000 supporters, it will be reviewed by the LEGO Group for a chance to be made into an official LEGO product. A Japanese amateur LEGO maker named Moko has submitted his VOCALOID Hatsune Miku LEGO doll to the website and has also posted a short promotion video for it on YouTube. How do you like this LEGO Miku?
Cuusoo has released three official LEGO products by this project, Shinkai 6500 submarine, spacecraft Hayabusa, and Minecraft Micro World. If you want to see the official Miku LEGO product, be the supporter for it. So far it has gained 41 supporters since Moko submitted it four days ago.
Source: Hatsune Mikumiku