The RPG for the truly hardcore returns, ready to eviscerate you once more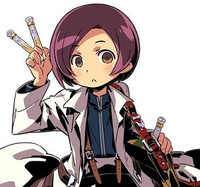 It always hits a nerve when I hear gamers complaining about the lack of hardcore games, and then never once mention the DS. I'm sorry, folks--we've got Contra 4, Infinite Space, and the Etrian Odyssey games, just to name a few--that's plenty "hardcore" right there, especially since the Etrian Odyssey games require you to draw your own map, lest you get lost and die forgotten in the wasteland.
With Etrian Odyssey IV heading to 3DS later this year in Japan, Atlus has released a ton of screenshots and artwork showing off the game's classes, monsters, and locales.
There's still no word on whether or not Etrian Odyssey IV is headed Stateside, but given that the first three made it, it's still safe to hope. This newest adventure sports a "Casual Mode" for all you babies gamers who are in it more for the story and to have a good time, so now there's no excuse to check out one of the best RPG series of the last decade.
All jokes aside, are you hoping for a North American release of Etrian Odyssey IV? Etrian fans, which of the first three games was your favorite?
via Andriasang