Get ready for high-energy sorta-romantic comedy from the creator of "Ichigo 100%"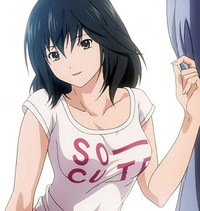 The pages of Weekly Jump aren't just filled with high adventure and epic battle--every now and then, you get something a little sweeter, a little more personal. Hatsukoi Limited is just that, a romantic comedy series focusing on eight girls in middle and high school, and all the ups and downs of their first loves.
Sentai Filmworks recently announced their acquisition of the series' twelve-episode anime adaptation--so far, only a digital release has been scheduled, but there are plans for a subtitled DVD release later on in the year.
Mizuki Kawashita is one of my favorite mangaka, and not just for obvious reasons--her stories are a nice change of pace from the usual Jump adventures. I haven't seen the anime for Hatsukoi Limited yet, but this is a good chance to take a break and tread the hilariously lethal minefield of high school romance. What about you? Is this one you want to add to your "to-watch" list?