Unfortunately, we can't get versions where all the CGI is replaced with practical effects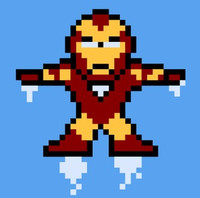 Y'know what I'm always impressed by? A good movie poster. While many show off a film's entire cast or focus on the main character, a good movie poster can give a movie's entire feel with a simple, subtle, and effective image.
Another thing I'm impressed by is 8-bit graphic artwork. See, back in the days of the NES, we got to see this on-screen:
And we imagined this was going on:
To that end, graphic designer Eric Palmer put together this set of movie posters done in classic 8-bit style, mainly using the original Mega Man sprite design.
I'm honestly wondering if an 8-bit Kill Bill would use the Contra death sound effect for every time Beatrix gutted somebody.
Which of these posters are your favorites? Which movies do you think should get posters done in this style? Palmer is taking more requests for movies, so if you have one that you really want to see in 8-bit, head on over to his Behance gallery and suggest it!
via Destructoid