New volumes of "Mori no Asagao" and "A Kiss on Tearful Cheeks" also added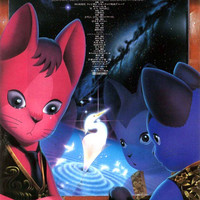 For this week's Thursday update, legal digital manga portal JManga has added Variety Art Works' adaptation of beloved children's writer/poet Kenji Miyazawa's posthumously published Night on the Galactic Railroad - an exploration of happiness and self sacrifice, also adapted into a 1985 anime by veteran director Gisaburō Sugii.
JManga has also added new volumes of Mamora Gouda's Mori no Asagao and Tsumugi and Yukie Sasaki's A Kiss on Tearful Cheeks.
Night on the Galactic Railroad
Created by Kenji Miyazawa , Variety Art Works
Story
"Giovanni, along with his best friend Campanella, boards a train traversing the Cosmos and sets off for a mysterious new world. Kenji Miyazawa's timeless literary masterpiece illustrated in manga!"



Mori no Asagao Vol. 2
Created by Mamora Gouda
Story
As a new prison guard assigned to death row, Oikawa Naoki faces condemned criminals every day, trying not to make a connection with men he knows are doomed to die. In the course of his duties, he strikes up a unlikely friendship with inmate Mitsuru Watase, a man sentenced to die for the revenge murder of the man who killed his parents, and slowly begins to wonder about the necessity of the death penalty and the meanings of concepts like repentance and forgiveness. Based on close and careful research, this thought provoking work tackles the serious theme of the "capital punishment system" head-on, from the view of both those who execute others and those who are executed.



A Kiss on Tearful Cheeks Vol. 2
Created by Tsumugi , Yukie Sasaki

Story
My name is Iori Narazaki. I am 17 years old, and I've always been a crybaby since the day I was born. I cry when I'm happy, I cry when I'm sad - and I cry because there isn't a person in the world who could someone like me. I don't even know if can fall in love. I mean, I've never had a boyfriend, and whenever I've had a crush on someone, my feelings never lasted. ...until Yusuke. Whatever the situtation, he's the only thing on my mind - is this good, bad, healthy, unhealthy? I don't know. All I know is that I want this to continue - my first taste of love!
JManga is also launching NIHONGO Corner, to Japanese manga in their untranslated form. JManga hopes that this corner will be enjoyed by Japanese speakers and learners around the globe. The site also plasn on utilizing this corner as a place for manga fans worldwide to vote on which titles they hope to have translated into English.
In JManga's Wings promotion, the site is showcasing 7 title's from Shinshokan's Wings Magazine, including Hyakusho Kizoku from the acclaimed Hiromu Arakawa. Purchase any of these 7 titles during the promotion and get 100 points back.