Plus Gumi's "Silver Bullet" and Kagamine Rin's radioactive "Propaganda"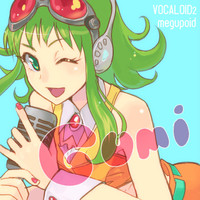 It's not quite as warped as "God's an Energy Cheapskate," but Gumi gets a bit strange in "My Crush Was A Monster Boy." Check out the work by Shokubai Phantom Girl below.
Now, Gumi goes for some excitement in "Silver Bullet."
Music/Lyrics: Nijihara Peperon/Peperon-P
Illustration/Movie: Mikuriya Wata
Speaking of Vocaloid excitement, Kagamine Rin's "Propaganda" has had some radioactive controversy around it. The debate around its lyrics and the related Vocaloid community politics lead to producer Karasu Yasabou leaving the scene.
Lyric & arrange by Karasuyasabou
■ Illustration by Hina no Suke
■ Title: Propaganda / Puropaganda /
プロパガンダ
via vgperson and @bluemistanime