Two volume look at events and personalities from Chinese historical epic published by Koei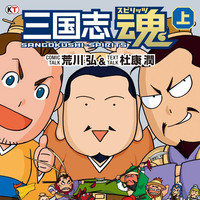 Fullmetal Alchemist creator Hiromu Arakawa and manga artist Jun Tokou (Bozou Days) have teamed with Dynasty Warriors' Koei Temco on a pair of Sangokushi Spirits books, looking at the people and events behind the Chinese historical epic Romance of the Three Kingdoms. Arakawa and Tokou will be illustrating a series of four-panel manga to go with the books' text essays.
While not directly based on Romance of the Three Kingdoms, stories of China's era of warring states was one of the influences on Arakawa's 2006 manga series Hero Tales.