Haruka Wakachi's manga announced at presentation earlier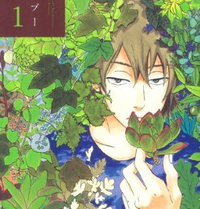 Update 4: The latest info of what was announced today can be found in our updated article.
While noitaminA is officially announcing their new titles tomorrow, the denizens of the Japanese bbs appear to have stumbled upon the second series which will air after Moyashimon Returns in July: Natsuyuki Rendezvous. Yesterday, a domain with a blank page had been found at www.natsuyuki.tv (Update: Official website is now live.), created on March 15, 2012 by TOHO AD CO. ,LTD according to the whois info. The whois info matches series such as the noitaminA series Ungo (www.un-go.com). The poster also claimed it would be airing on noitaminA in July, but provided no evidence.
However, today, in a refresh of the noitaminA main website, noitaminA has all but confirmed it by leaving part of the name of the series in the source code:
Haruka Wakachi's Natsuyuki Rendezvous josei manga revolves around a love triangle between a widowed flower shop owner, a boy who fails in love with the owner at first sight and decides to work there, and the ghost of the owner's husband. The fourth and final volume will come out April 7th.
Additional info via Urisure Matome+
Image ©Haruka Wakachi/Shudensha
Correction: The manga was serialized in a josei manga magazine, not shoujo manga.