"Saint Seiya Omega" script writer teams up with returning director Atsushi Takahashi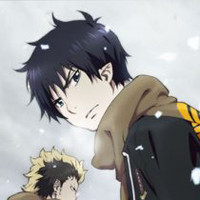 The site for the upcoming Blue Exorcist movie has posted a countdown clock to the April 1st debut of a preview clip of the upcoming feature, and along with the timer, an impressive bit of teaser art for the project.
TV series director Atsushi Takahashi (Rideback) will return for the movie, with Reiko Yoshida (the new Saint Seiya Omega, Digimon, K-on!) taking over scripting duties.