Confirmation of license rescue revealed in new trailer posted to YouTube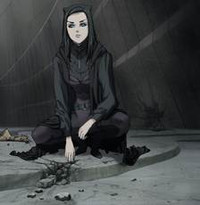 Back in the Summer of 2008 shortly after the ADV Films meltdown and following the shock of the shutdown of Geneon Entertainment as an active licensor and distributor in late 2007, Funimation decided to throw the nearly dormant label a bone and signed a landmark agreement whereby they would distribute Geneon's library of titles for as long as the licenses were valid.
One of those series that was recently distributed before going out of print was the 2006 sci-fi/mystery anime Ergo Proxy which was produced under the former Geneon Rondo Robe production initiative, whereby the US branch and the Japanese branch collaborated on the production of select series, with the American branch holding the automatic license for distribution in exchange for providing key funding. Key to that collaboration, the series was broadcast on US TV as part of the lineup on cable music channel on Fuse TV in 2007 and made heavy use of Radiohead in its promotion, as the ending theme was one of the band's biggest hits in "Paranoid Android".
Writer Dai Sato described the series as such in an interview:
It is set in the future. A group of robots become infected with something called the Kojiro [sic] virus, and become aware of their own existence. So these robots, which had been tools of humans, decide to go on an adventure to search for themselves. They have to decide whether the virus that infected them created their identity, or whether they gained their identity through their travels. This question is meant to represent our own debate over whether we become who we are because of our environment, or because of things that are inherent in us. The robots are all named after philosophers: Derrida and Lacan and Husserl.
Funimation has confirmed that it has licensed the show officially via a new trailer uploaded to YouTube. The trailer promotes the future release in its Anime Classics line that it reserves for shows with a track record for success. With the license rescue of Ergo Proxy, it also signals a breakthrough in its current position with Geneon Universal, as Funimation is still awaiting additional Geneon licenses for production work, going all the way back to 2010.
Synopsis:
The domed city of Romdo is an impenetrable would-be utopia where humans and robots coexist, and everything is under complete government control, or so it appears. While working on a mysterious murder case, Re-l Mayer, a female detective from the Civilian Intelligence Office, receives a foreboding message that something is going to "awaken." That night, she's attacked by a deformed super-being...what was this unidentified monster that attacked her, and who was the figure that came in between them? As Re-l attempts to unlock this spiraling mystery, a metaphysical battle cry leads her to the unknown outside world...
---
Humberto Saabedra is the Editor-in-Chief of AnimeNews.biz, PhoneNews.com and an occasional columnist for Ani.me. He can also be found musing on his favorite 2D girls at @AnimeNewsdotbiz.