Plus hear some voice work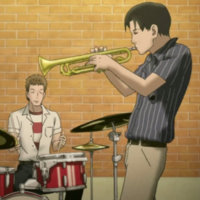 With Sakamichi no Apollo AKA Kids on the Slope right around the corner, it's about time we get a new trailer. The opening theme, "Sakamichi no Melody" by composer Yoko Kanno with lyrics and vocals by singer Yuki kicks in at around 36 seconds:
Does this seem about like what you were hoping for next from director Shinichirō Watanabe? High school friends come together through jazz starting April 12th.
via noitaminA